Brand-to-Local Marketing Tech Platform Adds New Capabilities Empowering Brand Marketers and Local Business Locations with Data Insights Across All Locations and Media Channels
RESEARCH TRIANGLE PARK, N.C., April 30, 2019 (Newswire.com) –​​​​​​​​Netsertive, a marketing technology company that enables brands, publishers, and local business locations to execute multi-channel, localized marketing at scale, announced the release of its new Analytics Dashboard. Adding powerful data visualization with instant access to aggregated or location-specific campaign insights, it helps brand marketers unlock insights across multiple media channels and programs.
Netsertive launched its Analytics Dashboard to ensure actionable insights are delivered from the overwhelming volume of data facing digital marketers today. By consolidating website, location, search, social, display, and video metrics, it enables marketers to analyze their data in aggregate or down to each specific campaign location. For brands, multi-location businesses or franchise groups, the Analytics Dashboard quickly surfaces deep local insights to better inform budget allocation, media mix, selection of creative assets and other performance drivers.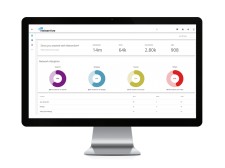 "The new Analytics Dashboard enables our customers to interact with their data in a more deliberate way.  With early-release users, we have seen a significant increase in the engagement with our platform," said Gary Galloway, Head of Product Marketing at Netsertive. "It not only gives them insights into their multi-channel marketing execution, but also enables them to ask better questions at the national, regional or even individual location level."
Netsertive's Analytics Dashboard includes features like multi-location performance views, heat mapping reflecting performance by location, location activation data for brands, as well as instant period-over-period comparisons. Fully integrated with its campaign execution platform, it synchronizes tracked and recorded phone calls, (HIPAA-compliant for healthcare uses), leads from its SmartPages™ landing page solution and one-click creation of campaign trending and performance reports. This is the latest step in Netsertive's product evolution to help brand marketers make better, faster decisions that impact all locations at once and focus on ROI.
With a data-driven platform, brand marketers can more easily personalize messaging at the local level, segment audiences, and target prospects based on overall brand or even each individual location's needs. Customers can now utilize the Analytics Dashboard to gain actionable insights to better support their digital marketing campaigns at the national, regional, or local level. The highly anticipated Analytics Dashboard is now available to all Netsertive customers. For more information visit www.netsertive.com/contactus.
ABOUT NETSERTIVE
​Netsertive has reimagined digital marketing by leveraging its team of expert strategists coupled with the power of its ground-breaking, data-fueled platform to create a unique solution for brands, local business locations and multi-location businesses.  Netsertive's People + Platform approach gives businesses unprecedented agility, control and insights that maximize localized marketing investments at scale. Netsertive is headquartered in Research Triangle Park, North Carolina, with an office in Seattle. For more information visit netsertive.com.
CONTACT: 
Ashley Freeman
​Netsertive
afreeman@netsertive.com
(800) 940-4351